Nandagopal Rajan
Nandagopal Rajan is the editor of Indianexpress.com, one of India's top news websites. He is Editor New Media. He writes on technology, gadgets and everything related. He has been writing on technology and related subjects for well over a decade. He has worked with the India Today Group and Hindustan Times and is an alumnus of Calicut University and Indian Institute of Mass Communication, Dhenkanal.
Amidst this ongoing pandemic, all of us were forced to be confined to our homes or the balconies to do our daily workouts and when the situation improved a little, we soon realized that it was no fun to jog or run with our masks on. So personal fitness devices like smartwatches and fitness bands seem to be indispensable to keep ourselves motivated to complete our fitness goals. So read on to get more clarity on whether Fitbit Charge 4 is the best wearable for you as suggested by Mr. Nandagopal Rajan.
Why do you need it?
Despite walking 10,000 steps daily, your cardio fitness level may be low as shown by other devices because it requires keeping the cardio levels high for a prolonged period to increase this value. This can be a herculean task unless you have a treadmill or some other similar equipment at home. This is where the Fitbit Charge 4 comes into use as it tracks your time in the active zone.
Pros:
The Charge 4 looks and feels exactly like earlier editions from this Fitbit series. There are no hardware changes with this version. The charger too is the same and it takes about an hour to fully charge up for 4-5 days of full activity. Even though it has a simple black-and white screen, keeping a track of time, your activities, and some alerts, it surely serves its purpose as a smartwatch. With a built-in GPS, you don't need to carry your phone to get data on the distance traveled. The built-in GPS in the new Charge 4 gets activated when you select an outdoor workout mode like hiking or brisk walking. Though it comes with a real-time distance calculator, a map showing wherever you have been seeming missing. Besides showing SMS alerts and other app notifications, you can swipe and tap on the screen to navigate from your data to pre-set workouts or other features such as Spotify controller. The app gives a lot of contexts based on your usage with data for heart rate variability, sleep reading, and so on. Getting a premium account from Fitbit offers a lot many more benefits like Deepak Chopra's mindfulness sessions which are video modules consisting of tips and tricks to meditate, relieve stress, and live a better life. In addition, there are also video workouts to learn from and new challenges to push yourself.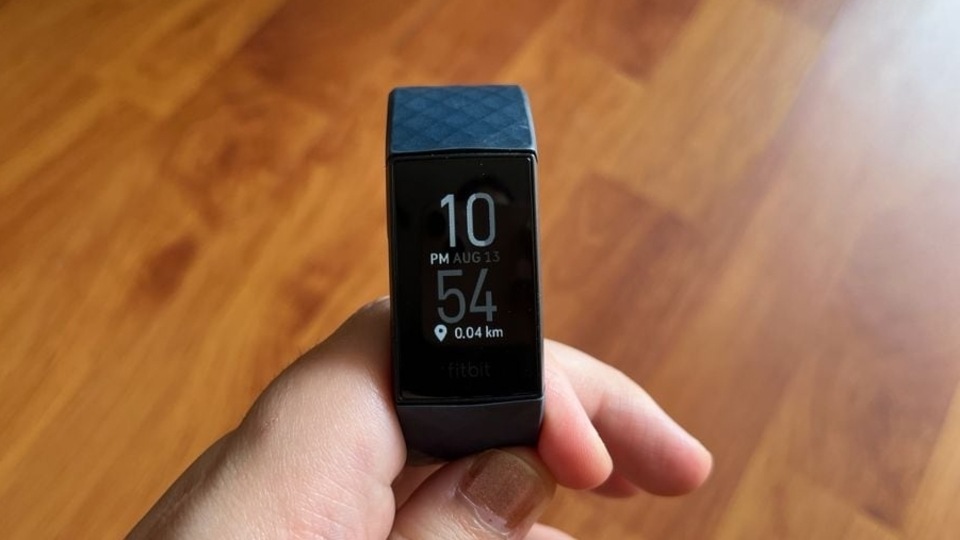 (Image Source: https://rb.gy/gco5h6)
The Active Zone Minutes:
The newest feature that will thrill you all is the 'Active Zone Minutes' which isn't activated when you are not doing much with the band on. But as soon as you start working out or even just walking briskly, the Charge 4 alerts you that you have entered the Active Zone. This signifies that your heart rate is increasing and you are burning fat. This ensures that your long evening walks are not wasted. Interestingly, this Active Zone is customised for every user based on average heart rate and other vitals. This seems way better than asking everyone to strive to achieve a global standard.
Cons:
Reminder alerts for breathing sessions, drinking water and taking short breaks while working would have been a really simple but useful addition which would go a long way to ensure a work- life balance especially during this work-from-home era. Moreover, looking at the vast amount of data that Fitbit possesses, it should start giving more detailed analysis to users even without the premium subscriptions.
Should you buy?
Prized at Rs 14,999, the Fitbit Charge 4 is among the best fitness trackers that you can buy in the under 15K range as suggester br Mr. Rajan. Even though there are other brands offering smartwatches at lower prices, considering the health data analysis the Charge 4 offers, it sure is worth spending a bit extra on the Fitbit premium too so that you have full control over your health data with actionable details.
CORRESPONDENT: MANU GUPTA